p - 0 f - 1
i - 84
RDrive: Compact and High-Torque Servo Motors
Hollow-shaft RDrive servo motors are available in five modifications: RDrive 50, RDrive 60, RDrive 70, RDrive 85 and RDrive 110. Each features different performance characteristics, dimensions, and weight so you can pick the right design for your application. Rdrive servo motors are perfect for implementing an industrial automation solution, building a model aircraft, or working on your own robotic projects.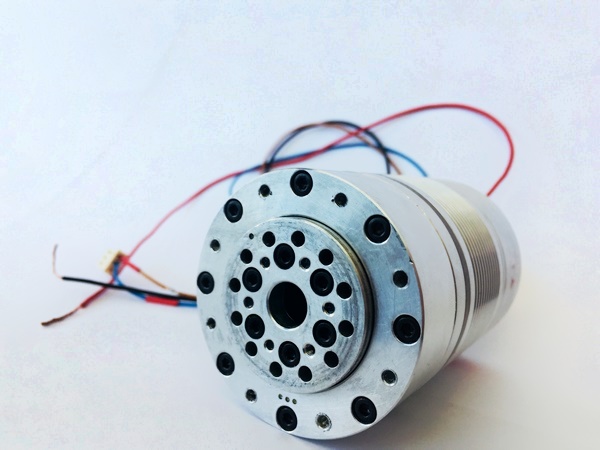 The story behind RDrive servos
We started with designing a proprietary frameless AC motor, which is now at the heart of our RDrive series. We coupled the motor with two absolute magnetic encoders for getting feedback and a controller to orchestrate motion control. In addition, we provided a hollow shaft for smooth integration.
With a built-in strain-wave gearhead, we increased power to our RDrive servo motor. This enables it to convert the high-speed and low-torque motor energy into low-speed and high-torque output.
Now that we have completed the work, we are proud to have a product that hold its own with established European manufacturers—the high-torque and compact RDrive series models! 
Why choose RDrive servos?
Here is how our servos can help you with your operational goals: 
Designed with a hollow shaft, the RDrive servo allows for easy mechanical and electrical integration.
RDrive series servos come in a variety of dimensions, enabling you to choose the best fit for your project.
Despite their compact size, our servo motors boast high power and performance characteristics that compare favorably to the specifications of top industry players.
The built in strain-wave gearhead has almost-zero backlash and a gear ratio of 1:100, enhancing performance and efficiency of our servo and providing high-torque output.
With a controller and two 19-bit absolute magnetic encoders integrated into the housing, the RDrive servo motor ensures high-precision motion control.
RDrive 50 model (53 mm, 11Nm) in action. Total payload 135 kilo
Rdrive: compact servo with a hollow shaft
Rozum Robotics manufactures its servo motors using stringent production standards. We use only quality raw materials purchased from high-grade suppliers. Electrotechnical steel, rare-earth magnets, and copper wire are just a few examples of the materials that going into making our products.
Most of the components in our servos (frameless AC motors, controllers, and encoders) are created and manufactured by us. The entire process, from welding the rotor plates to applying a compound, is under our strict control. Third-party components such as strain-wave gearheads and bearings come from quality vendors in Europe and Japan.
---
Rozum Robotics offers competitive prices and flexible supply terms. Once the order is made, you can expect servos within three months.